We did it! We won 'Outsourced Contact Centre of the Year' last night at the European Contact Centre & Customer Service Awards (ECCCSA) 2021.
 
Not only did we take home gold last night, but we're also delighted with our silver and bronze awards in the categories 'Best Pan European Contact Centre' and 'Best Place to Work (Bucharest)'.
John Devlin, CEO and Co-founder of Ascensos, said:
"To be recognised as a European industry benchmark at the most significant awards night of the year, among such tough competition, is a fantastic end to 2021 and is a terrific reflection of the talent in our team."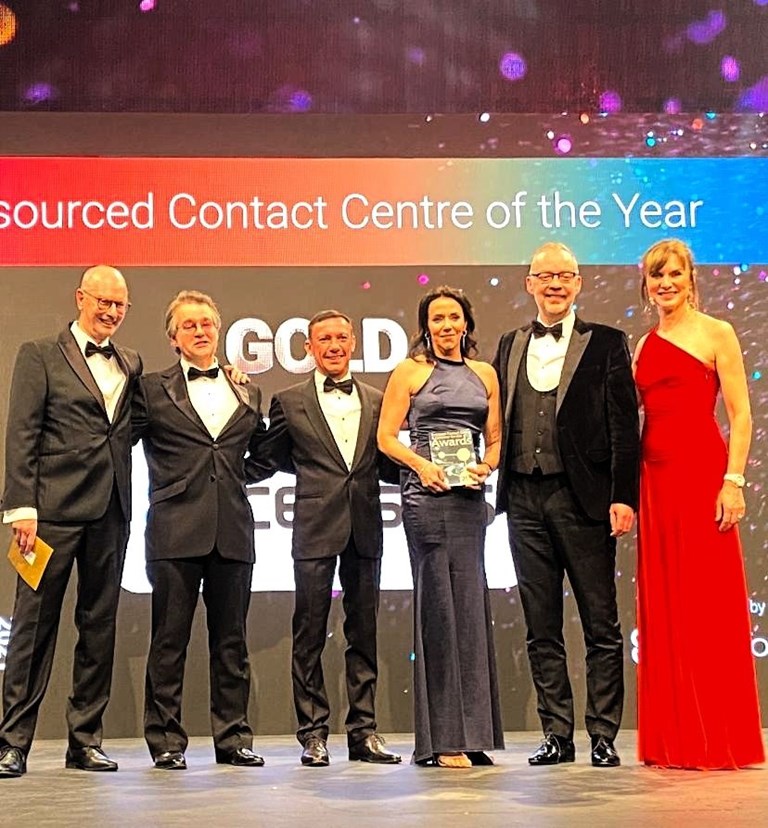 Last year we were proud to win gold at the ECCCSA's in the category 'Responding in a Crisis – Providing Leadership (Large)' and silver for 'Best Outsourcing Partnership (Large)', in relation to our partnership with Wickes.
John Devlin and the team headed to the glittering awards ceremony at Evolution in Battersea Park, London, accompanied by our guests for the evening.
Journalist and TV presenter Fiona Bruce did the honours of announcing 'the best of the best' in Europe within our industry, accompanied by Horse Racing champion and true legend Frankie Dettori. And you can see from the photos that it looked like a fabulous evening for all involved (unlimited beer and wine!)
The European Contact Centre & Customer Service Awards is cited as the greatest awards programme in the customer contact industry. In its 21st year, it is also the longest-running and largest awards programme within our industry.
Ascensos employs over 2,500 colleagues in a mixture of onsite and home-working customer service and operational support roles.
As award-winning retail customer care specialists, our mission at Ascensos is to help brands and their customers stay in love, and we are proud to partner with some of the UK and Europe's leading consumer brands.
Note to Editors:
For more information please contact:
Fiona Campbell, Ascensos | marketing@ascensos.com
Emma Bain, tigerbond | emma.bain@tigerbond.com