Love is certainly in the air at Ascensos today. There's been a flurry of love notes exchanged among teammates delivered by a couple of nominated colleague cupids and a sea of people wearing the colour of love as far as our eyes can see. Kudos to our Marketing Team who most definitely nailed todays' love theme in honour of the great hallmark celebration that is Valentine's Day.
But dare I say that we are in fact switched onto the love vibes all year round here at Ascensos. As engagement experts, our goal is to help brands and their customers stay in love. It's something that we're extremely passionate about. All day, every day.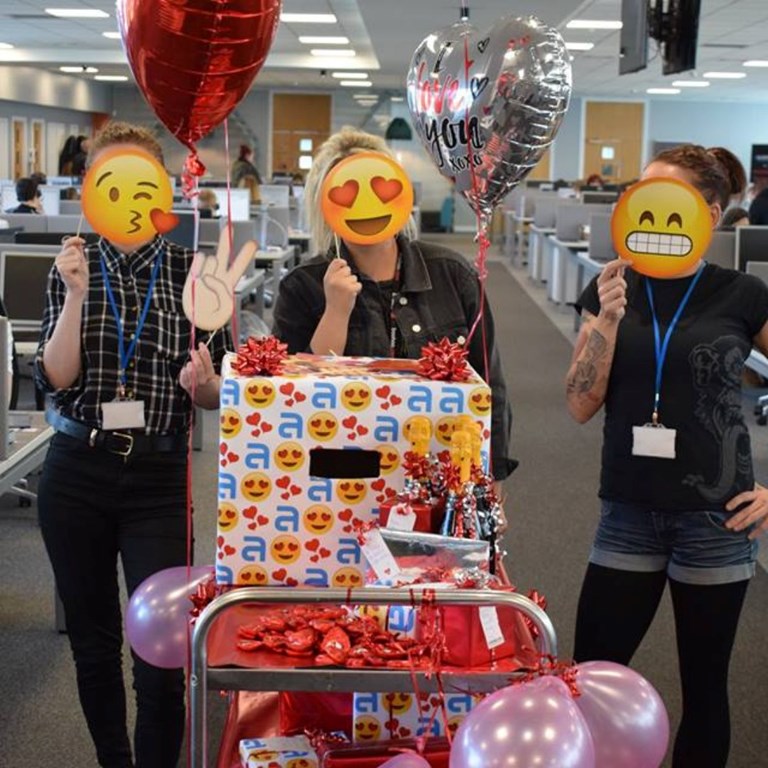 As every retailer is fully aware, for consumers the next best thing is always a mere click away, making brand loyalty a battlefield for any business that doesn't take their customers' expectations seriously, or make their customer experience a priority.
So, because we're good at it (but mainly since it's Valentine's Day), we've been mulling over our 'Top 6 Romance Rules' essential to 'keep that special spark' alive between a brand and their customers.


Romance Rule #1: Speak the same love language.


Simply put, if you want your customers to love your brand, you need to keep it real. Brand loyalty has everything to do with how consumers perceive your brand, whether it be through marketing activity, reputation or service. Consumers want to believe in brands that represent something true and authentic – and that requires consistency and trust. For our frontline Customer Service Advisors, every interaction matters as they are empowered to play their part in delivering your brand story, adopting your brands' tone of voice and understanding your product offering inside out, to ensure long lasting relationships with your customers.


Romance Rule #2:

 

Maintain high standards.


Setting the right standards in customer service is crucial for performance. It gives frontline Customer Service Advisors something to aim for, an incentive to improve. But using the right combination of metrics as a measurement of success is key to that continual improvement. Be that speed of response, first-contact resolution, Customer Effort Score (CES) or Net Promoter Score (NPS). The essential questions are; was the customers problem resolved efficiently? Did they leave happy?  Are they still in love?


Romance Rule #3:

 

Listen with the intent to understand.


Most people do not listen with the intent to understand; they listen with the intent to reply. To successfully build a rapport with customers, be that over the phone, via email, live chat or on social media, demonstrating empathy and understanding is an extremely important factor when it comes to providing a great service experience.
Whether customers call about a problem or complaint, our job is to make them feel heard, respected and understood. Acknowledging customer concerns with empathy and understanding is essential to good communication and great service. Imagine yourself in that customer's shoes and make their problems your own. Would you do anything different to meet their expectations?
Romance Rule #4: Ask questions.


Ask the right questions and then use the data to build more in-depth customer profiles. Translating customer data into insight will keep your brand relevant and make a huge difference in the way you relate to your customers, the products you recommend and/or the solutions you provide.
Customers expect a personalised experience full of personality, attention, respect, and appreciation. Being smart with data will help to strengthen their connection with your brand, making your customers feel valued. And customers love brands more when they feel loved.


Romance Rule #5: Make it memorable.


It is essential that we establish connections that are so special and memorable that a customer desires to keep coming back for more. So, keep delighting them. Reduce customer effort and don't leave them waiting, deal with difficult conversations upfront and always follow-up. Make the customer journey as seamless as possible and give them a reason to stay.
A warm, personal service is always a fantastic reminder of why they fell in love. Make them feel as special as new customers. Retention is just as important as acquisition.
Romance Rule #6: Practice self-care.


Happy people keep people happy, which is vital when it comes to caring for the needs of customers. For many brands their frontline colleagues can be one of the biggest untapped resources when creating a great customer experience.

The space where you work and the people that surround you play a key role in ensuring you love what you do. At Ascensos, we've always placed a real emphasis on the employee experience, to create an enjoyable environment and culture of fun and inclusion for all our colleagues. It's certainly working today!

Customers leave a brand because of a bad or an indifferent experience. Needs are not met. Relevance is lost. Values no longer align. And trust is broken.
All brands must rise to the occasion to stay on top, but sometimes endless love requires some expertise and a little TLC.